About the Fellowship Program
The Administrative Fellowship is a 2-year program for Masters-level graduates or students whose program requires a year-long fellowship before graduation. The program offers career development opportunities, hands-on experiences in outpatient practice management, and exposure to one of the world's top academic medical centers. Fellows gain first-hand experience in dealing with the internal and external pressures that affect the local and national healthcare landscapes, and how they impact all entities within Duke Health.
To ensure we are in the heart of the action, leadership is strategically located in the center of Research Triangle Park, North Carolina, which places us in the middle of our clinical network and supports our current growth plan.
Important Dates
Applications for the 2024-2026 fellowship program will open this summer. Information about the application is below.

Timeline
The application deadline is September 5, 2023 at 5pm EST.

1st and 2nd Round interviews will be conducted in September

Final Round interviews will be conducted in October

The fellowship offer must be accepted within 24 hours
LEARN THE ROPES
During the first year, Fellows rotate through clinical and administrative departments of the practice, ambulatory practices, Duke University Health System and Duke University Hospitals. During these rotations, Fellows gain a comprehensive understanding of the physician practice and its strategic initiatives by shadowing senior administrators who also mentor Fellows on a monthly basis to ensure they are successful.
Fellows will also have department-specific projects in each of their rotations to provide a broad understanding of all areas of practice administration. This also gives Fellows to get a better sense of where to hone their focus in year two.
Project Work
Project work may be proposed by senior leaders or the fellows, based on personal interest and professional goals. Fellows work with leadership to evaluate and select projects that combine the professional interests of the Fellows and the needs of the organization.
Projects assigned during the first year allow Fellows hands-on experience with various types of initiatives across all departments and functional areas of practice administration. A new project may be assigned during each of the Fellows' two-week rotations, allowing them to develop working relationships and working knowledge of the organization.
AREA(S) OF FOCUS
During the second year, Fellows select an area of the practice in which to work based on career interests, organizational priorities, and continued mentoring. In this more focused year, Fellows become part of the management team, and develop health administration leadership experience.
Project Work
Projects in the second year are related to the specific areas in which the Fellows have elected to hone their skills and experience. Because these projects can go on throughout the duration of their second year, Fellows have the opportunity to manage them from start to finish and create solutions with lasting impact.
SUMMER/FALL
Clinical Operations
Duke Health Access Services
Human Resources
Finance
Communications
Business Development and Network Services
Facilities and The Joint Commission
Patient Experience
Contracting and Payor Relations
Compliance
Physician Integration/Onboarding
WINTER/SPRING
Duke Health Technology Services
Duke University Hospital Based Ambulatory Clinics
Performance Services
Perioperative Clinical Service Unit
Life Flight
Patient Revenue Management Organization
Revenue Managers
Emergency Department
DukeWell
Duke Primary Care
School of Medicine Departments
Application Requirements
Resume/CV
1 Current Official Graduate School Transcript
Undergraduate Transcript (Unofficial Accepted)
2 Letters of Recommendation (Academic and Professional)
​Please address letters of recommendation to the "Administrative Fellowship Selection Committee"
1-Page Statement of Purpose: Explain how your life experiences and journey into healthcare influenced the person you are today and your decision to pursue an ambulatory administrative fellowship?
1-Page Supplemental Essay: Select one of our values—teamwork, excellence, safety, integrity, and diversity—and describe its importance to healthcare leadership.
Successful Applicants:
Are driven and team-oriented
Have foundational knowledge in the core competencies of healthcare administration
Desire personal and professional growth
Educational Requirements:
Applicants must have completed degree requirements for CAHME, AACSB, CEPH, and/or AUPHA-accredited Masters in Health Administration, Masters in Business Administration. We also accept applications from candidates whose programs require a one-year fellowship prior to graduation.
If you have challenges uploading your application materials, feel free to compile all of your application materials into a single PDF and email your complete application to adminfellowshipdhip@duke.edu.
First Year Fellows (2022-2024)
Kishan Shah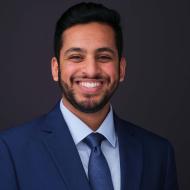 Kyleigh Vestal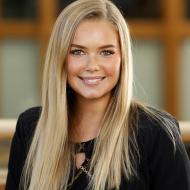 PDC Administrative Fellowship Alumni