After her son experienced bullying in middle school, Penny Poole decided she could help the kids she cares for every day in clinic. So, she did.
"Some of our patients in the Duke Children's Healthy Lifestyles Program, which helps children who struggle with obesity, are at risk of being bullied," Poole said. "And the majority of bullying situations end when there's a support system from family and peers for reporting or redirecting the situation."
Poole, a certified medical assistant at the Duke Health Center at Roxboro Street, gathered a group of interested colleagues and formed the Anti-Bullying Committee at the clinic.
"Penny is taking an issue and doing something about it," said Sarah Armstrong, MD, a pediatrician at the clinic and director of the Duke Children's Healthy Lifestyles Program. "Bullying impacts children's health and well-being, and she's sticking up for all children. She's brought together a huge group of people in the clinic, rallying them around helping our patients and their loved ones better understand the risks of not reporting bullying."
Poole's goal is to remove the stigma behind reporting bullying. The clinic now includes a question about bullying in the standard depression screening. If a patient acknowledges being bullied, the clinic staff talks to them about ways to report and document the incidents.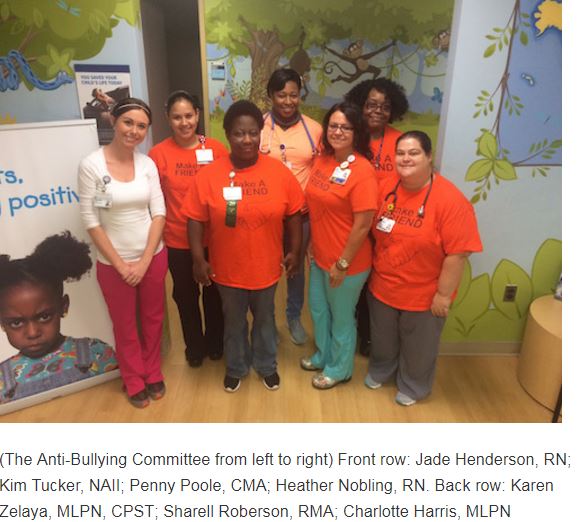 "If you give kids and parents a way to report it, it makes them feel like they have some control over the situation," said Poole. "When they know they have support from us, they open up and start talking. We're learning about situations we would have never known about before."
Next the group plans to raise money to buy "buddy benches" for local schools.
"The "buddy benches" are placed on playgrounds and provide a way for kids who are new, or don't have someone to play with, to meet new friends," said Poole. "Kids who feel alone can go sit on the bench and that lets others know they need a friend, so they'll come sit with them."
The clinic recognizes National Bullying Awareness Month every October. Staff wear ribbons and T-shirts and decorate the waiting room in orange, the official color of bullying awareness. They even staff the waiting room with someone to hand out awareness items and talk with families about the importance of reporting bullying.
"Parents find relief from talking to someone who understands what their child is going through," said Poole. "They feel encouraged and willing to report the incidents. Talking to us makes them feel like there's hope."
Poole's son is now in the 9th grade, doing well and is proud of his mom's crusade. "Now that he's older and less shy, he realizes the importance of reporting bullying," said Poole.
by Blair Callahan at 8:05 AM