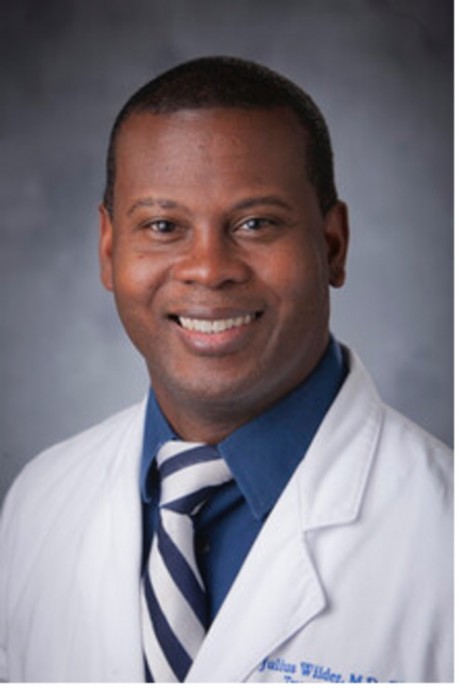 From Dr. Erica Taylor and Julianne Robertson)
Our Duke Health Integrated Practice members and teammates are doing great work in the advancement of health equity. The impact of persistent health disparities affects all of us. In our respective clinical environment, there are numerous opportunities to contribute to the mission of delivering excellent care equitably to all patients while creating an environment of inclusion and belonging. We would like to highlight our DHIP teammates who have devoted their scholarly time and efforts to addressing health disparities, serving as an inspiration for all of us to get involved. This is our work to do.
Today, we highlight Dr. Julius Wilder for his work toward and thoughts around health equity.
Julius Wilder, M.D., PhD
Practice Location(s): Duke Gastroenterology North Durham, Duke Regional Hospital
Julius Wilder, MD, PhD, is an Assistant Professor of Medicine at Duke University School of Medicine. He has an appointment with the Duke Clinical Research Institute and a secondary appointment with the Department of Sociology at Duke. He has authored several peer-reviewed articles in journals such as JAMA, Hepatology, and Liver Transplantation. He is Chair for the Duke Department of Medicine Diversity, Equity, Inclusion, and Anti-Racism Committee, and is Co-Director for the Duke Community Engagement Research Initiative. He is a principal investigator on multiple clinical trials and has received research awards for his work on social determinants of disparities in gastroenterology and hepatology.
Experience with Advancing Health Equity
When asked what his experience has been like with advancing health equity at Duke Health, Dr. Julius Wilder reflects on how events outside of healthcare can impact the industry: "This is a unique period of time. Our work in this area is different today than it was a year and a half ago – there was less support, buy-in, and an understanding as a community about the significance of these issues around diversity, equity, and inclusion (DEI)." Thinking about some of the events that occurred over the past year and a half, especially surrounding Breonna Taylor, George Floyd, and the pandemic, Dr. Wilder articulates how we are now prompted to reflect on these ongoing societal issues that can manifest in difference ways, including the impact it can have on the care that is provided to our patients.
While he feels it is unfortunate these events have led us to focus on these issues, it is positive that we are learning from these experiences and trying to build a better community for employees and staff in addition to a better health system for our patients. Dr. Wilder states that he has seen tremendous buy-in and commitment among leaders to focus on DEI issues, think about how we can address them, and engage the community in a better way: "This is a moment that we've never had where we can really move things forward on this front in a way that was not possible before due to the lack of focus and prioritization of these issues."
Equity in Action
Speaking to moments where he has seen success, Dr. Wilder credits the work of several groups he is a part of that are moving DEI initiatives forward and making an impact. One example is his role as Chair for the Duke Department of Medicine Diversity, Equity, Inclusion, and Anti-Racism Committee (DEIAR). This committee has been able to articulate short and long term goals for the Department of Medicine (DOM) around education, clinical care, research, and climate/career development. They are working on implementing tangible, measureable policies and changes that will have a significant, positive impact on the issues of DEI and anti-racism within the department. For example, Dr. Wilder is in the process of having individual conversations with every black faculty member with the goal of obtaining actual information about their experiences at Duke Health. The hope is to develop policies that meet the unique needs of individuals, particularly in the research area.
The DEIAR committee also recently created a funded, leadership position for every division – Vice Chief for DEI – in order to mitigate the siloed nature of this work. Faculty in this role will help implement policies and goals for the DOM, assist with the recruitment of trainees and new faculty, and ensure proper education opportunities are provided for each division. They will also undergo Civility Champion and Stepping In training to improve the climate within the division. This role will help break down the silos and create an avenue for two-way communication between the central committee, faculty, and chiefs.
Ways to Get Involved
Dr. Wilder invites people within the DOM who are interested in this work to partner with their division Vice Chief of DEI. For those who are seeking to get involved in other ways, he suggests taking advantage of the many opportunities throughout Duke to learn more about these issues and engage in these conversations, including panel discussions and various trainings.
Specifically, he mentions Civility Champion and Stepping In training as learning opportunities for people to recognize situations where micro-aggressions occur and learn how to "navigate that moment" as an advocate for a colleague, yourself, a patient, and others. Dr. Wilder speaks to the collective impact we can have on the climate at Duke if we can all do our part to step up and support one another: "While that one instance may not seem like a big issue at the time, when you multiply that out, [stepping in] is how you really start to change climate and behavior. We can't always change people's minds, but we can impact the climate of where we work and where we provide patient care. That should be our goal at minimum."
For DHIP members and staff interested in health equity projects, please visit: https://sites.duke.edu/reachequity/ or contact us at pdcmembercomm@dm.duke.edu.
Did You Know?
Racial bias and discrimination toward physicians and other healthcare providers can have a serious impact on patient care, the provider's well-being, and the overall culture of an organization.
In an article highlighting the negative impact of racial bias and discrimination on Black orthopedic surgery physicians, the challenges these individuals face from those both inside and outside of the organization are acknowledged: "While overt cases of racism or discrimination from staff clearly require disciplinary action, the challenge remains to address situations where residents experience racism from patients or experience more subtle racial micro aggression, which may still occur as a 'daily barrage.'" Program directors and faculty must "acknowledge that racism and racial micro aggression do exist and occur on a regular basis for minority physicians." Appropriate avenues for reporting these incidents must be established and upheld with sincerity.
Additionally, bystander training offers another way to create a more inclusive, safe environment for providers and other employees. Successful implementation of these trainings will be integral to improving the overall experience of patients, providers, and employees in an organization. It is vital that we all feel empowered and equipped to stop acts of discrimination in the moment in order to create change on a larger scale.
https://journals.lww.com/jbjsjournal/Fulltext/2021/06020/Achieving_a_Diverse,_Equitable,_and_Inclusive.13.aspx?WT.mc_id=HPxADx20100319xMP
For more information regarding Civility Champions and Stepping In 4-Respect, please see below:
Additionally, "a cohort of Department of Medicine faculty and trainees have been trained on how to offer informal support in response to incidents of bias, harassment or other unprofessional behaviors.
These Civility Champions will provide support; explore options for intervention or reporting when safe and appropriate; model the Department's commitment to addressing the harm these incidents cause; and strengthen our community by working toward an environment of healing and care." Learn more >
The Department of Medicine is offering "Stepping In 4-Respect" training. This training "is designed to teach faculty and staff the skills needed to step in (be an "upstander") in the moment, with a particular focus on race-, ethnicity- and gender-based incidents." Learn more >
The data below shows the pre-training and post-training responses of the participants for two questions at the University of Virginia Health System:
1. How comfortable do you feel stepping in to respond to discriminatory behavior exhibited by a visitor?
Responses for those who felt more "comfortable" and "very comfortable" after the training increased 22 points collectively.
2. How comfortable do you feel stepping in to respond to discriminatory behavior exhibited by a patient?
Responses for those who felt more "comfortable" and "very comfortable" after the training increased 32 points collectively.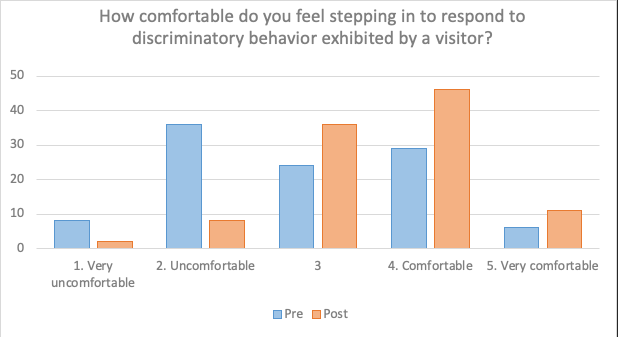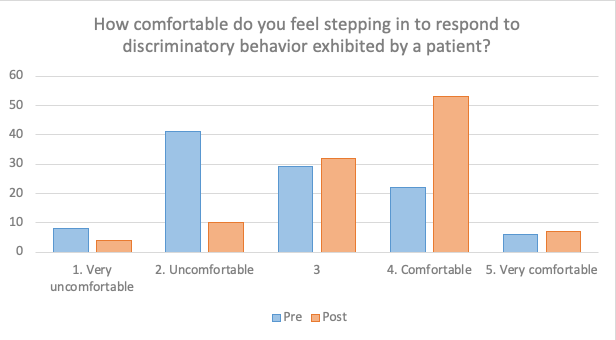 Thank you to the University of Virginia Health System for sharing their findings related to the impact of the Stepping In training on those who participated!