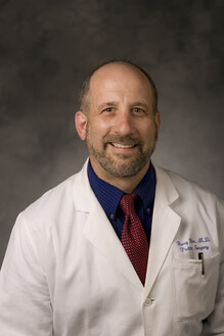 DHIP members and teammates are doing great work in the advancement of health equity. The impact of persistent health disparities affects all of us. In our respective clinical environment, there are numerous opportunities to contribute to the mission of delivering excellent care equitably to all patients while creating an environment of inclusion and belonging. We would like to highlight our DHIP teammates who have devoted their scholarly time and efforts to addressing health disparities—serving as an inspiration for all of us to get involved. This is our work to do.
Today, we highlight Dr. Henry Rice and his involvements with the Durham City Council on an initiative called Prescriptions for Repair.
Henry E. Rice, MD, Pediatric Surgeon, Division Chief of Pediatric Surgery
Henry E. Rice, MD is a Professor of Surgery and Pediatrics at Duke University School of Medicine, as well as a Research Professor of Global Health for the Duke Global Health Institute. He also serves as the Division Chief of Pediatric Surgery and as the Co-Director of the Duke Center for Global Surgery and Health Equity. He has authored several peer-reviewed articles in journals such as World Journal of Surgery, BMJ Quality & Safety, and JAMA Surgery. Dr. Rice is interested in global health and surgery with a focus on the assessment of surgical health systems and patient safety. His current research projects involve the improvement of patient safety for children's health care as well as examining global metrics of surgical quality, economics, and efficiency. Most recently, Dr. Rice has partnered with the Durham City Council as a Duke Health conduit to provide resources for victims of gun violence.
Passion for Advancing Health Equity
Due to his background in Public Health and academic interests in global and local health equity, Dr. Rice has always been drawn to initiatives that would impact community health beyond hospital walls. Prescriptions for Repair is a prime example of that. This initative originated within the Durham community as a focused cross collaboration between the city and other community players to address the lasting impacts of gun violence from a "restorative justice approach". This approach closes the gap between medical, physical healing and mental, emotional healing in efforts to mitigate a hurt and unhealed community. Dr. Rice mentions a part of the Restorative Justice approach is that "healed people, heal communities; hurt people, hurt communities-- and if left unattended, we will only contribute to hurting communities moving forward".
Dr. Rice is particularly motivated to be a part of Prescriptions of Repair as a result of Duke Health's existing and historic health equity and gun violence initiatives. Of note, for over 15 years, Duke Pediatrics has been the national leader in offering gun lock and safety education provisions to families during well child visits. He mentions that he is driven by the opportunity to "engage at a close, entrusting, intimate level, with those community partners who are experts" to address and solve complicated problems. As a result of his Global Health Surgical Systems research, he believes that "one cannot sit by yourself and not listen to the wisdom of people who are on the ground."
Equity in Action
Prescriptions for Repair is a one- year pilot program set to address the unmet emotional and psychological needs of survivors and victims of gun violence after they've left the hospital. To address these needs, Prescriptions for Repair will implement structured listening sessions from a direct, non-judgmental point of view conducted by trained facilitators with two goals, helping victims understand what happened to them and how it impacts them and their families; and, develop a "Prescription for Repair"-- a twofold actionable plan of how to move forward as an individual and a plan on how the community can heal based on victims' insight. Dr. Rice states that the key to any health equity initiative is to start and function at a ". . .people impacted level and remove yourself from your comfort zone within Duke and go to the place where the problems exist and getting with community members is the key to. . ." truly addressing health equity issues.
Prescriptions for Repair is a true public/ private partnership between the Durham Community, Durham City Council, Duke University, and NC Central University that will leverage the expertise of mental and behavioral health professionals and empower community members to engage and be a part of the solution. The initiative also involves a research component that will "summarize gunshot survivor experiences, ensure high-quality data analysis, and help define community response opportunities". It is expected that, from the data, the team will learn about additional community resources, sources of resilience, better ways to learn, and methods of post traumatic recovery. Moreover, the data gathered from the pilot program will be used to support evidenced based tactics for sustained operations of addressing gaps, both internal and external to Duke, through listening to those most affected.
The Future of Health Equity
When asked about the future state of Prescriptions for Repair, Dr. Rice's response was "I think part of the reason of doing a pilot program is you admit that you don't know what the best long-term solution is and that there are multiple ways to achieve a particular goal." Given that Prescriptions for Repair is successful on the basis of establishing trust with the community and implementing actionable efforts to heal from tragedy, Dr. Rice believes that this initiative will need a "long-term, more comprehensive set of community-based resources and discussion". He says that these discussions will need to identify how to establish a set of resources-- mental health, community resources, etc.-- for survivors of gun violence.
Additionally, in the long term, Dr. Rice believes the focus of initiatives will also need to focus on mitigating additional risk for adverse health outcomes and keeping people out of the hospital by investing in holistic prevention. Dr. Rice says that his hopes for Prescriptions for Repair include leveraging the one-year pilot timeline to enhance Duke Health's value proposition as a trusted community partner so that people will want to work with Duke to solve complicated Public Health problems.
The Importance of Getting Involved
Dr. Rice believes that the importance and impact of Prescriptions for Repair can be felt on multiple tiers of the organization. For example, there is a glaring gap between clinical care and the ability to care for people beyond the hospital. Initiatives such as these will extend Duke's reach and enhance our ability to holistically care for patients. Additionally, from an economic perspective, gun violence prevention is essentially cost effective when considering the associated costs of care. Dr. Rice also emphasizes how invaluable enhancing community trust and partnership is to the culture of the organization, performance, and community health and relationships.
In order to effectively implement initiatives such as Prescriptions for Repair, Dr. Rice and the other representatives need a team of committed and passionate individuals. He explained that his role is to bring people together and to spread awareness to the Duke Health System. Therefore, those individuals across the DHIP and the Duke Health System who desire to support and to be involved can do so by becoming a trained facilitator for the listening sessions and engage with the larger team. As of now, Dr. Rice is the liaison for Duke Health and is happy to answer any questions and facilitate participation in the initiative.