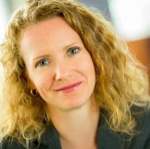 Our Duke Health Integrated Practice members and teammates are doing great work in the advancement of health equity. The impact of persistent health disparities affects all of us. In our respective clinical, operational, and administrative environments, there are numerous opportunities to contribute to the mission of delivering excellent care equitably to all patients while creating an environment of inclusion and belonging. We would like to highlight our DHIP teammates who have devoted their scholarly time and efforts to addressing health disparities, serving as an inspiration for all of us to get involved. This is our work to do.
Today, we highlight Sara Holleran and the DHIP Diversity, Equity, and Inclusion (DEI) Committee. (Pictured for this article)
Ms. Holleran, Associate Vice President for Clinical Strategy and Communications, joined the DHIP in 2019. She has organization-wide accountability for identifying opportunities and driving success in strategic growth and value-based initiatives.
Prior to joining the DHIP, Ms. Holleran served as Chief of Staff in the Duke Clinical Research Institute where she was responsible for strategic planning and new business initiatives that integrated across functions in the DCRI. She has also held a variety of strategic planning roles in the Duke University Health System, most recently as Senior Director of Network and Affiliations Planning. Ms. Holleran has held roles in the Suffolk County Department of Health Services in Long Island, NY, and served with the American Red Cross in Cincinnati, OH. She earned her Bachelor's degree from the University of North Carolina at Chapel Hill in Public Policy and Health Policy, and her Master of Public Health from Columbia University.
Experience Advancing DEI Initiatives
When Sara first joined the DHIP, she sought out opportunities to help advance diversity, equity, and inclusion (DEI). Sara connected with a small group of people who had been meeting to discuss DEI topics and engage with others who were passionate about this work. Since then, Sara has taken on a leadership role in the committee and helps facilitate the meetings. The diversity of the committee members and topics that are discussed in the group are constantly evolving. She notes that it is important for the group to include a diverse group of people – those who have different backgrounds, perspectives, and roles in the DHIP. Before, during, and after Duke's major push toward prioritizing DEI initiatives, this committee has offered the employees at the DHIP a space to share their ideas, thoughts, feelings, concerns, and questions.
Sara also emphasizes the benefit of having a senior leader, Dr. Erica Taylor as the Associate CMO of DEI, in these committee meetings and in the DHIP as a whole: "It's really important that we have structured institutional support along with a group of passionate people who meet on a regular basis. You can be a great role model, advocate, and influence others, but the DHIP demonstrated it's commitment when we created this role and recruited someone as qualified as Dr. Taylor."
Committee History, Purpose, & Goals
Soon after Sara joined the committee, she helped facilitate an exercise to develop a mission statement with a specific vision and overarching goal for the committee. In addition, the group outlined 5 sub-goals in this document – leadership, belonging, education, reputation, and operations. For each sub-goal, there are strategies, objectives, and tactics outlined for executing and achieving the primary outcome. However, Sara mentions that these goals have evolved and will continue to evolve to match the needs of the organization. The committee, along with this document, was presented, assessed, and approved by senior leadership of the DHIP.
Through committee participation, members are able to discuss any barriers, successes, and learning opportunities they face both in and out of the workplace. Through these discussions, the committee hopes to provide support for members to share and learn from others' experiences.
Advice, Opportunities, and Tips
First, Sara invites those who have a real interest in these topics to join the committee! She also encourages others to reflect on what they value and what goals they have for themselves, especially in the realm of DEI. For example, Sara developed a personal manifesto to remind herself of what matters to her and what she values. The first item on her list is to "show up" and "be present and engaged." Even though this may seem cliché, Sara reflects on how it is often difficult to "show up" in the moment and how important it is to remind yourself of the impact you can have on others.
Even with busy and demanding lives at home and in the workplace, she reiterates that it's important to remember that the way you treat others impacts everyone around you. It is vital that each of us recognize where we can impact others on a smaller scale and consider how each interaction contributes to the overall culture. There is always room to grow both personally and as an organization. Being a part of this committee is a great first step to get involved, share your experiences, and learn from others in a safe and supportive space.
For DHIP members and staff interested in health equity projects, please visit: https://sites.duke.edu/reachequity/ or contact us at pdcmembercomm@dm.duke.edu.
Did You Know?
The DHIP's Diversity, Equity, and Inclusion Committee meets on the third Tuesday of each month from 2pm – 3pm. If you are interested in joining the committee meetings, please contact Sara Holleran.
Please see below for an overview of the committee's vision, mission, and values. All are welcome.
Vision: The DHIP is an organization that welcomes all people and the identities, values, perspectives, cultures, ideas, and beliefs they represent.
Mission: The DHIP is committed to fostering a culture of belonging and to being recognized as a diverse and inclusive organization.
Goal: Create and maintain a thriving DHIP community that champions the robust exchange of ideas.
What is a DEI Organization?
Inclusion refers to a cultural and environmental feeling of belonging.
It can be assessed as the extent to which employees are valued, respected, accepted and encouraged to fully participate in the organization.
Employees in inclusive environments feel appreciated for their unique characteristics and are therefore comfortable sharing their ideas and other aspects of their true authentic selves.
Diversity, equity and inclusion are central to our organizational functions, priorities and employee culture. Sources:
https://www.gallup.com/workplace/242138/requirements-diverse-inclusive-culture.aspx